Updated 1 week, 5 days ago
Latam's vertical gardens
Vertical gardens are a good solution architects are implementing for planting trees in cities. They have more benefits than just being aesthetic. For example, they absorb the sunlight and lower the building's temperature, produce large quantities of oxygen and decrease the CO2 levels in a city. They can also become habitats for native wildlife.
The most famous and elaborate vertical gardens around the world include the Bosco Verticale in Milan, Sydney's One Central Park and Singapore's Supertrees. They all provide a glance of nature in the middle of the urban jungle and have won different international architecture awards.
In Latin America vertical gardens are gaining popularity as well. Paisajismo Urbano a company dedicated to their installation has several projects in the region and here are some of the most famous examples.
Ecuador:
This vertical forest in a shopping mall in Quito includes 30,000 plants from 90 different species, mostly endemic. According to its architects throughout the year the garden can generate oxygen for 1000 people and trap 300 tons of CO2.
Guatemala
Oackland Mall's vertical garden was finished in November 2016. It has 186 square meters and uses more than 6,300 plants form 10 different species.
Chile:
Open Plaza mall's vertical forest in Ovalle, Chile has more than 140 meters and 4,000 plants. They were chosen because they're resistant to dry conditions and sudden temperature changes.
Uruguay:
Edificio Celebra in Montevideo is considered the biggest vertical forest in Uruguay. Built in 2014 the forest has more 6,000 plants, mostly endemic. According to its designer, Ignacio Solano, this garden can trap more than 130 kg of dust throughout the year and produce as much oxygen as 250 people need to breath in a year.
Colombia
Hotel B3 in Bogota is one of the largest vertical forests in Latin America. Its façade has over 25,000 plants, most of them native. It was built by GRONCOL and is considered as one of Colombia's most original hotels.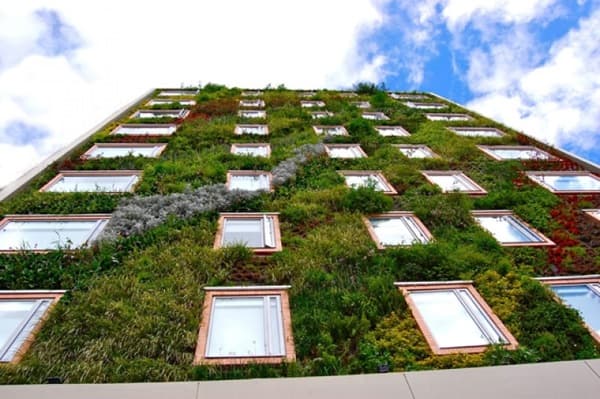 Finally, according to Green Roofs Bogota also hosts the largest vertical forest in the world. Santalaia building was completed in late 2015 and is home to more than 115,000 plants. This building is has more than 3,100 square meters and is capable of producing oxygen for 3,000 people and eliminating more than 2,000 tons of greenhouse gases per year.
LatinAmerican Post