Examples of coaches and athletes in different disciplines reveal how difficult it can be to succeed in a male-led area
As a prediction of the difficult path that women should face in sports led by men, the German Kathrine Switzer appears as a legend. In 1967, Switszer enrolled in the Boston Marathon with only her initials, since women were not allowed in these marathons. When the race started the organizer of the event, Jock Semple, noticed the German and pounced on her saying she could not participate; finally, her boyfriend stopped Semple and Kathrine was able to successfully complete the race.
The conditions of a woman to be able to develop as a professional in an area of ​​men, also has to do with machismo, with gender equality, with women's political positions, among other factors.
Latin America is one of the regions where women are still discriminated when they want to obtain positions that are traditionally occupied by men and where the wage gap still depends on gender. An example of this are the presidential offices in which we only have records of Chinchilla, Bachelet, Kirchner, and Rousseff as sole exponents in this position.
Latina women in men-led sports are relegated to being coaches or referees in women's leagues, or they have to leave the country to try their luck abroad as is the example of Karla Espinoza, the first scout in the big leagues of American baseball.
Another example is former Peruvian referee Ana Pérez. Pérez was the first woman appointed by the Conmebol as inspector of referees for the Copa Libertadores , in addition this same organization described this designation as a unique and historic act in Latin America.
Currently, one of the women who is triumphing in men's field is Chan Yuen-Ting. The 28-year old Hong Kong achieved something that was unthinkable for a woman, and this was to coach a male soccer team in the League of Asian Champions . Yuen-Ting, since 2017, is a coach of the Hong Kong Eastern club and although her participation in the League of Asian Champions has been very poor (due to the difference in budget and player quality), Chang was the first woman in Asia led a men's team to become a league champion, to Eastern FC in Hong Kong.
In Africa there is the Sudanese Salma Al-majidi . Al-Majidi was recognized by FIFA as the first woman in Africa and the Arab world to be a male soccer coach. Al-Majid was interested in football since she was a little girl and that's how she became the coach of two Sudanese football teams competing in second and third division, respectively, Al-Nasr and Al-Nahda. Currently, the Sudanese is a consultant in the professional team of Sudan and her participation has been a source of pride for many women who profess Islam. Al-Majidi was recognized by the BBC in 2015 as one of the "100 women who inspire".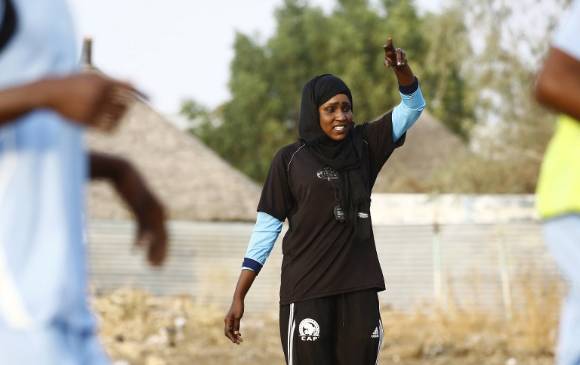 One of the women who is triumphing in Formula 1 is the Spanish Carmen Jordá . Jordá is a Spanish professional motorist who has competed in different tournaments such as the Renault Sport Trophy and the GPS 3. Jordá was a test driver for the Renault and Lotus companies in Formula 1, since it is traditionally played by men .
For its part, Sarah Thomas is the first referee in the history of the NFL (National Football League). Thomas was hired as a full-time referee for the NFL from April 8, 2015. His performance in the major leagues of football as a referee has been remarkable, pitching games belonging to the Bowl Game and Big Ten Stadium.
Accompanying Thomas in the refereeing position is German Bibiana Steinhaus , who is the only referee who has called a first division football match (Bayer Munich and Schalke 04) in Germany . Currently, Steinhaus is the only woman who acts as referee in professional football in Germany.
Latin American Post | Miguel Díaz
Translated from "Galería: Las mujeres que han triunfado en el deporte pese a la discriminación"